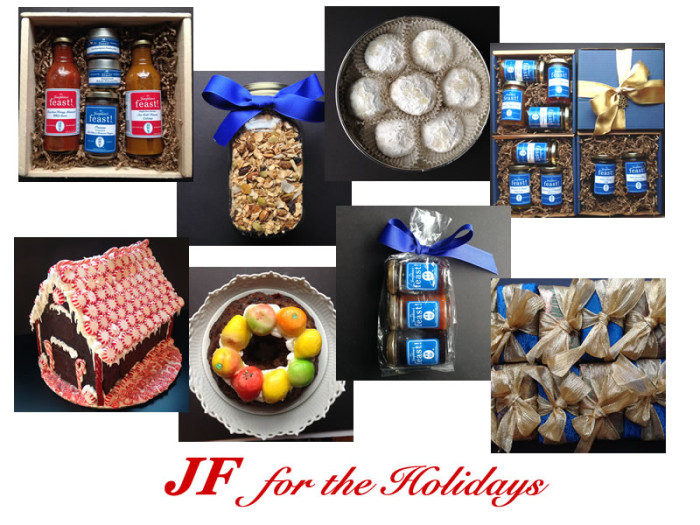 Welcome to Josephine's Feast!
Josephine's Feast! is an expertly crafted collection of luxurious confiture made by hand in an artisanal manner.  We work with small family farms and rural foragers on the east end of Long Island and Upstate New York selecting the very best seasonal, sustainable, local & organic fruits, vegetables and herbs for our products.
Prepared by hand and cooked in small batches – our preserves are cooked slowly with a minimum amount of organic sugar. There is an average of 2 pounds of  fruit in every 8 oz jar. Not only can you taste the difference – you can see the difference .  Beautiful natural color and unmatched textures – that can only be achieved by the patience and experience of the Confiseur – Laura O'Brien
Sugarless Jam Fruit spread, Pickles, chutneys, spice mixes and sauces round out our offerings. Seasonal gifts of fruits soaked in liquor, an exceptional organic fruitcake, cakes & cookies and a Christmas pudding are available in limited quantities for the holiday seasons.
There is alchemy to what we do.  Like fine wines, each season has it's own specific style. We create a preserve with exceptional taste.  Capturing these flavors is the craft of our business.
What we enjoy most is sharing the gift of exceptional taste with our friends and family.  And I hope you do as well.  Gift sets are packaged in hand made wooden boxes from a cheese making family in the mid west.  Season gifts and bespoken boxes make the perfect gift for any occasion.
Quite simply our preserves are the most delicious in the world – a tasteful everyday luxury to give or to receive.