Brining A Turkey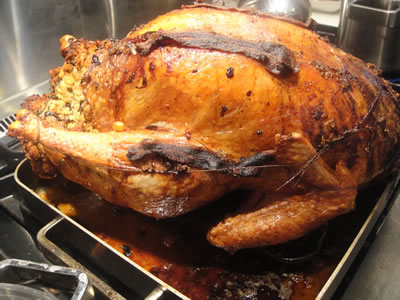 What strikes me most about Thanksgiving is that just a few weeks before – I get that urge to cook a turkey.  Call it a seasonal urge, just like driving upstate New York to see the leaves change color. I can't wait to cook my turkey dinner.
In anticipation I page thru a number of favorite cookbooks looking for ways to improve on my favorite recipe.  This year my interest is brining.  We have had a great summer barbequing brined pork ribs and chops – why not the Thanksgiving Feast!
I must admit that my all time favorite Turkey recipe is "Turkey with Two Stuffings" from the Theory and Practice of Good Cooking by James Beard.  The bird is stuffed with a fresh herb bread stuffing and the neck is stuffed with a rich coriander scented sausage stuffing.  I prefer to use an organic turkey – one from North Sea Farms but in the past I have also used a wild turkey and even a boned turkey breast – we'll save that technique for another post.
Brining is simple, but it takes some planning – you'll have to start 3 days before Thanksgiving if you are using a frozen turkey. Similar to a marinade – Brining makes cooked meat moister by hydrating the cells before cooking, via the process of osmosis.  There are no short cuts to brining; your turkey must remain in the brine for 16 to 24 hours. Simply stated this process makes a great piece of meat even better
The basic bring mix is quite simple – salt, sugar, and water.  This recipe is an adaptation from Jeremiah Tower's "New American Classics" Influenced by Elizabeth David, Richard Olney & Alice Waters  – this is a cookbook that changed the way we thought about American food when it was published in 1986.
For the Brine:
1 cup of salt – I prefer grey sea salt
½ cup of brown or organic sugar
1 gallon of water – plus additional water
2 T black peppercorns
2 bay leaves
2 T whole coriander
3 T dried thyme or Herbes de Provence
3 days before cooking you will have to thaw your turkey – if it is fresh – all the better.
Combine one gallon of the water with all the ingredients above in a large stockpot over medium heat.  Stir and bring to a boil.  Remove the brine from the heat cool down and refrigerate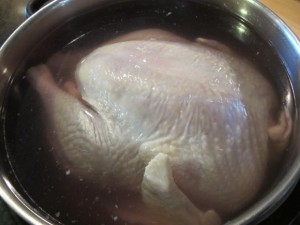 The day before cooking pour the brining mix into a 5-gallon bucket. Adding an additional gallon or more of water.  Place the thawed turkey in the bucket and weight it down to insure the brining mix covers it.  Cover and refrigerate for 16 to 24 hours.
Brining works by osmosis – if you cut the brining time you will result in an over salted turkey.  If you allow the full 16 to 24 hours for the brine – you'll have a delicious turkey with outstanding gravy.
This recipe can be reduced by half or quarters and used to brine organic chickens, pork chops, pork tenderloin and my absolute favorite barbequed ribs.
If you don't want to make your own brining Mix, Then try ours. Enough for one Turkey.