Josephine's Feast at Slow Food Tasting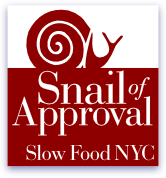 Taste Josephine's Feast! for yourself at the Slow Food Show on 12/3 & 12/4 here in NYC. The Slow Food Show will be a two-day event.
Saturday, December 3, from 1 to 5 pm, at Jimmy's No. 43, the Slow Food NYC Snail of Approval and Good Beer Seal winning bar in the East Village from 2:00 to 5:00 pm.
Sunday, December 4, from 11 am to 4 pm, at the award winning New Amsterdam Market, in Lower Manhattan's East River Market District.
The New Amsterdam Market will provide a focused tasting and sales area.
Here is some more details and info from WNET- Channel 13