Apple Sauce and Gingerbread Cake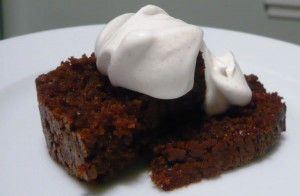 It is that time of the year – the turkey is put away and the countdown to the holidays begins. If your not wading knee deep in markdowns – your probably making your list and checking it twice.
"The indulgence of a dime instead of the indulgence of a dollar " quoting Daniel Bouloud in the NYTimes upon the opening of DBGB. This statement has resonated with me for the past two years. Especially this holiday. What to give?
I have always been cleaver enough to finish my holiday shopping by Thanksgiving weekend leaving some time to bake or make special treats for my friends and family. Here is a very quick and easy gingerbread recipe that is both delicious and nutritious. This makes a quick house warming gift or holiday desert.
Apple Sauce and Gingerbread Cake
1 16oz jar of organic apple sauce
1 cup light molasses
2 t baking soda
3 c all purpose flour
½ t salt – I use fine grain sea salt
2 T fresh ground ginger or 2 t powdered ginger
1 ½ t of cinnamon
½ t cloves
4 eggs – organic
1 ½ c organic sugar
2/3 c vegetable oil – I use grapeseed
Preheat the oven to 325 degrees
Mix the first three ingredients together in one bowl – applesauce, molasses & baking soda.
In a second bowl mix the flour, salt, fresh or powdered ginger, and spices.
In the bowl of an electric mixer begin beating the eggs until light in color then add the sugar. When thick add in the oil.
Combine the wet and dry ingredients alternatively.
Pour into two 9" loaf pans. This recipe can be used in smaller loaf pans or mini bunt pans when drizzled with jam. It makes wonderful cupcakes dollop with whipped cream.