Salmon with Pomegranate Seeds and Tangerine
Welcome 2012! And with the New Year comes a checklist of reflections and maybe a resolution or two. For me easiest way to jump-start 2012 is a quick salmon dinner that brings together healthy food and seasonal flavors. The bonus is that it is a cinch to make – perfect for a family dinner or a weekend dinner party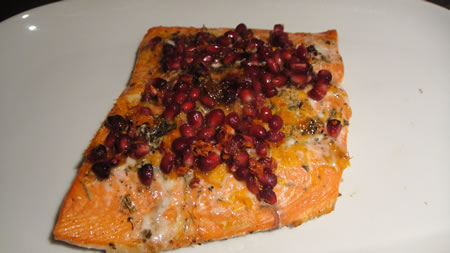 Choose a piece of Wild Salmon – if you are able to get Steelhead Salmon lucky you. The Steelhead season in the Olympic Peninsula starts in December and runs thru April and is definitely worth looking for. This dish also works perfectly with frozen salmon and if the Wild King Salmon from your fishmonger has been "previously frozen" I would encourage you to purchase that over a farm raised fish.
1 Piece of Salmon – preferably with skin
1 Tangerine
½ t sea salt
Pinch Black Pepper
1t Herbes de Provence
½ cup Pomegranate Seeds
Olive oil
One pat of butter (optional – I like the flavor)
Oil a cast iron pan with a light coating of olive oil to keep the fish from sticking
Preheat the oven to 350 degrees
Season the salmon fillet with salt and pepper – both sides
Zest the skin of the tangerine and hold aside
Juice the tangerine – a lemon juicer works best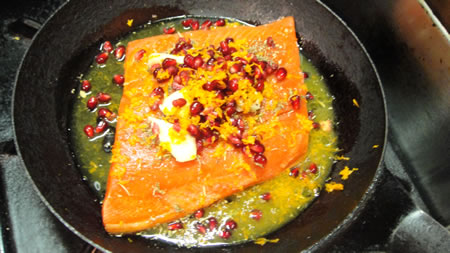 Place the salmon in the center of the pan, you can add a scant drizzle of olive oil and or a pat of butter on the fish. (You can omit this step is you are watching your weight)
Pour the tangerine juice, the tangerine zest, the Herbes de Provence, and the Pomegranate Seeds over the fillet.
Place the dish in the 350-degree oven and cook 10 minutes per inch of fish. At least once during the cooking open the oven and spoon the juices over the fish. Let the salmon rest tented in foil for 5 minutes before serving.
I love the ease of this dish – and you can experiment with other citrus and herb combinations. Meyer Lemons and Dill or Grapefruit and fresh Chives also combine beautifully.