Flourless Valhrona Chocolate Cake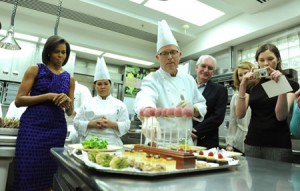 Valentine's Day means exactly one thing to me – Chocolate. And I am not faint of heart. I like a good bittersweet rich dark chocolate, preferring cake to candy. About 6 or 7 lives ago, I worked as a cook in the kitchen at Bouley in New York City. I was Garde Manger and loved being called Madame Canape by the Chef . Bill Yosse was the Pastry chef – and he made a chocolate cake that was legendary. I think I ate one every day for a year. Bill has been the pastry chef at the White House under the Bush and Obama administrations and I love following his recipes whenever he shares them.
But back to the chocolate cake. This is plain as can be with a rich texture and a deep chocolate flavor. A cinch to make, the key is choosing and gathering the right ingredients. When making anything chocolate, choose the very best…I love Valhrona for it's deep bittersweet chocolate flavor. In my opinion Valrhona Le Noir 68% is the perfect chocolate. Valrhona is a French chocolate manufacturer in the town of Tain-l'Hermatage in Hermitage, the wine growing district near Lyon. Their focus is on high grade luxury chocolate and considered one of the foremost chocolate makers in the world. Valrhona produces "vintage" chocolate made from beans of a single year's harvest from specific plantations primarily from the Gran Crus which grow in South America, Oceania, and the Caribbean.
Not unlike a good bottle of wine each chocolate brand has it's own unique flavor – Callebaut from Belgium, and two American brands Scharffen Berger and Ghirardelli are also worth considering. And if you are hungry for chocolate and have only a bag of chocolate chips in your pantry, by all means go ahead and make the cake. It will be far superior to anything store bought. I know it sounds as if I am contradicting myself. But this cake is delicious and tastefully chic any way your slice it.
 Flourless Valhrona Chocolate Cake
1 Pound Valhrona Dark Chocolate
10 T European style butter – it makes a difference in baking
4 Large eggs
1 T Sugar
1 cupHeavy whipping cream
¼ t Bourbon Vanilla Extract
Baking Notes: Bring all ingredients to room temperature before mixing: eggs & whipping cream should be at room temperature , the butter should be soft. The chocolate should be melted then cooled to room temperature.
Preheat the oven to 375 degrees
Butter the bottom and sides of an 8" spring form pan & line the bottom with parchment
Chop your chocolate into small pieces and melt in a double boiler
Add the butter one tablespoon at a time to the chocolate and stir to melt.
Bring the chocolate & butter mixture to room temperature.  (If you are in a hurry you can put this is the refrigerator for 10 minutes)
Whisk the eggs and the sugar with an electric mixer until they are light and tripled in volume – about 5 minutes. The mixture should produce soft ribbons of batter – do not over mix. This can also be done by hand.
Fold 1/3 of the egg mixture into the chocolate – do this by hand as to not loose volume. This is called lightening the batter. Then fold the chocolate into the egg mixture.
Place the mixture in the prepared pan. Bake until set 18 to 25 minutes
Cool on a wire rack. Remove sides of pan – and invert on a serving dish.
Chill
When ready to serve whip the heavy cream until soft peaks form – and I do like adding a drop of vanilla.