Corned Beef with Rhubarb Sauce
The winter seems to have passed with out much notice here on the east coast.  There was no snow to speak of and my garden soil never froze.  In fact I have 5,000 pot holes where a gang of very fat squirrels have dug up and eaten all of my spring bulbs.  The funny thing is – I have a Feist – a dog that is bred to hunt squirrels in trees. Both George Washington and Thomas Jefferson had such dogs and wrote fondly of their hunting skills.  But my dog "Lucky" has been reduced to fear – hiding under a bush in the corner of the garden as the gang of squirels  – who are far to big too climb the trees – – picnic on my bulbs.
But there is always hope in the early spring garden.  My witch hazel is in full bloom, as is the crocus and the snow drops.  Before you now it the apples will be in blossom and the rhubarb will be poking out of the soil. Maudy Tuesday has passed and St Patricks day is right around the corner.  Corn beef and cabbage is a spring tradition in the O'Brien household and I take a very unconventenial approach to my preparation having had many boiled dinners in my life.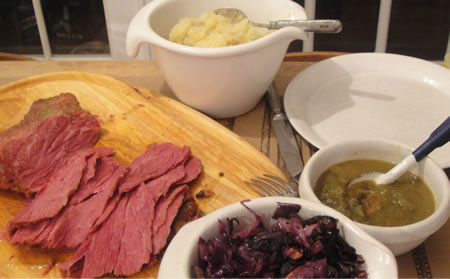 I look forward to celebrating St Patrick's Day with this dinner each year.  The recipe is flavorful and surprisingly lean with a nod to a tradition.  The beauty of the dinner is the flavorful  rhubarb sauce accompinied by smashed yukon gold potatoes and sauted red cabbage and garlic.  it is just about the most perfect  perfect way to welcome spring.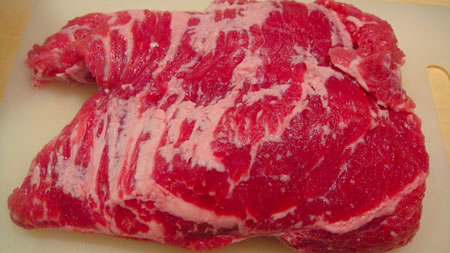 This dinner takes a bit of planning but is well worth the effort.  Corned beef is a type of salt-cured beef.  The term comes not from the grain corn, but from the treatment of the meat with "corns" of salt. Due to the ubiquity of salting beef for preservation in many cultures, corned beef features prominently as an ingredient in many cuisines, including the Jewish, Irish American, and Caribbean cuisines. First order a thick cut organic corned beef preferably with  no nitrates.   Worth the trouble, potassium nitrate is added to keep the meat a bright pink color – I'd rather do without it.  Whole Foods or Natures Way feature several organic  – no nitrate brands.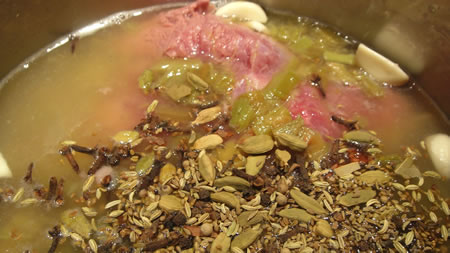 Corned Beef with Rhubarb Sauce
4 to 5 lb Corn Beef – preferably organic with no nitrates
4 to 6 cups apple cider
2 lbs fresh or frozen rhubarb – cut into 1" pieces
2 T Garam Marsala Spices
First trim every visible piece of fat off the corned beef.  Some of you may not agree – but there is enough fat between the meat to keep the corned beef tender.
Pour 4 cups of apple cider – enough to cover the corned beef in a dutch oven.  Add 1/2 the chopped rhubard.
Heat the liquid and add the trimmed corned beef and the rest of the rhubarb.
Sprinkle in 2 T of the spice mix.  Cover and cook on a medium heat  until the "sauce" spits and boils.
Uncover and simmer for 60 to 90 minutes until all the fat is rendered off the corned beef and your rhubarb sauce is as thick as custard.
Take the meat from the pot and let it rest "tented" under foil for 10 minutes.  The apple cider and rhubarb tenderize the meat in the cooking process.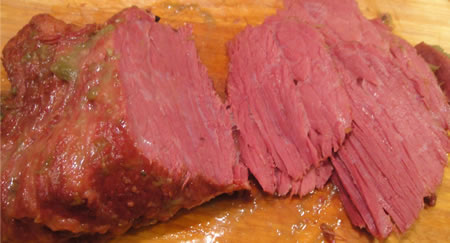 When serving, slice the corned beef at a severe angle and serve with rhubarb sauce and dijon mustard.
Leftovers make excellent open face sandwiches.
 Smashed Yukon Gold Potatoes
3 pounds of Organic Yukon Gold Potatoes
2 T butter  – I prefer Organic
1/2 to 1 cup of milk – I prefer Organic
Natural Sea Salt
White Pepper
Fill a 4 qt pot with water.  Add a generous pitch of natural sea salt
Wash and quarter the potatoes
Boil the potatoes until fork tender – about 30 minutes
Drain the pot of the boiling water and it place back on a very gentle heat to dry the pot and potatoes.
Add 2 T unsalted butter – cut these into small pieces to melt quicker
Smash the potatoes with an old fashioned potatoe masher.

Slowly add milk while continuing to smash the potatoes – Yukon Golds are surprisingly soft and creamy – you really won't need much milk
Test for salt and add some white pepper
Other variations:
If you would like you can add a few cloves of garlic to the boiling water to make a Garlic Smashed Potatoes
If fresh herbs are on hand, a generous sprinkling of finely chopped parsley adds a fresh  flavor.
If calories are not an issue – salt pork or bacon is a wonderful old world addition
Red Cabbage Sauted with Garlic
One of the easiest vegetables is sliced red cabbage sauted with garlic – the color looks glorious and the flavor is tastefully delicious
1/2 a head of Red Cabbage
Natural Sea Salt
Garlic
Olive Oil.
The trick here is to slice the cabbage as fine as you can – a rough chop is fine but for a truey spectacular dish use a mandoline or cuisinat with a fine shreadding disk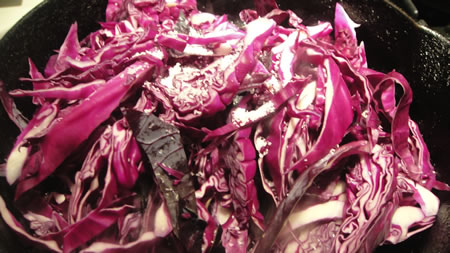 Add enough olive oil to just about cover the bottom of a cast iron frying pan.
Add 4 to 6 chopped cloves of garlic – cook until lightly gold – don't over cook
Add the red cabbage and a good pinch of salt
Saute  – turning every few minutes on medium heat.
Cook until tender and when the cabbage is slightly limp.