Cooking with Fire: The Ultimate Cowboy Steak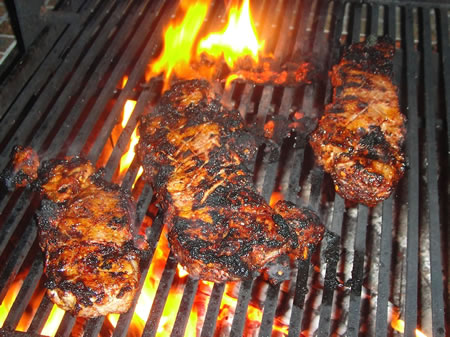 We are very lucky indeed.  Our country home has an fire pit fitted with an outdoor grill.  It overlooks Shinnecock Bay and the cool spring evenings are perfect for watching a moonrise and sipping a martini.
Another perk is the ability to cook over an open fire all year round. A quick steak with a salad and oven fries is our usual Saturday night fare.  Something delicious, easy and spontaneous that can serve my family of 3 or a feast for more if friends drop by.
One of my favorite cuts of meat is a shell steak – so I was pleasantly surprised when Andrea Geary wrote about it in the June edition of Cook's illustrated.  Although I always rub my steak with a simple version of green herbs, fresh garlic, olive oil and salt or a spicy chili rub when company calls, she suggested spicing things up with a quick glutamate paste of fish sauce, tomato paste, onion & garlic powder, and salt for one hour before cooking.  She was playing with the Fifth Taste, Umami – something my father would do without knowing, when he added Worcestershire Sauce to every meal.  I was intrigued.
Simply – the steak is scored with a shallow slits and let sit in a marinade for 1 hour.  This glutamate or Umami "marinade"  changes the structure of the muscle fibers of the protein so that they hold on to more juices and it is hardly detectable to the taste.  When the rub is added and the steak put to the flame, you have a wonderful, tender, delicious steak that any cowboy would be glad to call dinner.
I must say this is a step I have never tried and it makes a big difference.
Grilled Steak with Chili & Espresso
2-3 Shell Steaks
Marinade:
2 t tomato paste
2 t fish sauce
1 1/2 t natural sea salt – or kosher salt although I prefer sea salt
1/2 t onion powder – something I never use but stay with me
1/2 t garlic powder – again, something I never use but it will make a difference
Spice Rub:
2 Dried New Mexican Chilies – you can substitute an Ancho Chile if you dare
4 t whole cumin seeds
4 t coriander seeds
1/2 t cayenne pepper flakes
1/2 t black pepper – tellicherry peppercorns is my choice
1 t organic sugar
1 t finely ground espresso coffee
1t smoked paprika – hot paprika can be substituted but the smoked adds a depth of flavor
1/4 t cloves
Vegetable oil spray:
With a sharp knife make 1/16" slits 1/2" apart in a diamond pattern on both sides of the steak.
Make the 'marinade" by mixing all ingredients and rubbing the paste into the steak.

Let sit for one hour at room temperature
Prepare the fire 30 minutes before grilling
Make the spice rub by toasting the first 5 ingredients for 3 to 5 minutes in a hot cast iron pan.  Be care to use a vent or keep a window open as the hot pepper can cause your eyes to tear.

Cool in an open bowl and add the final 4 ingredients.  Grind with a spice grinder or a mortar and pestle.  If you prefer a chunky rub.

Press 1/2 of the spice rub onto the tops of the steaks and spray with a light coating of vegetable oil.  do the same to the second side.

Cook over a hot fire until brown and charred – about 3 to 4 minutes per side.  The steak should register at 125 to 130 degrees for medium rare.
Tent with aluminum foil for 10 minutes – this is an important step that is often forgotten.
Slice thin against the grain