How to Eat a Fiddlehead Fern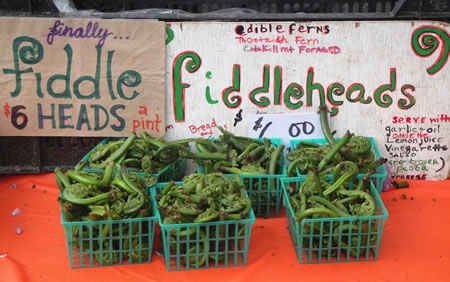 After writing my post on Ramps my dear friend Nancy Hume an actress, a teacher, and old Yankee at heart reminded me of the glories of seasonal cooking by reminiscing about her mothers Spring meals that were foraged in the fields of Martha's Vineyard. The season started with Ramps and moved through Fiddlehead Ferns and Garlic Scapes. She still spends summers in her family home in the Vineyard and someday I'll harvest wild grapes there. As all good foragers, she has her secret locations that she promised to take me to.
We had a wonderful discussion on Fiddleheads, comparing notes on how to serve them – it can be very simple – just sauté and eat. The Fiddlehead is a great source of Vitamin A & C and has a well rounded mineral content. Picked while still rolled in a coil before the fronds unfurl, you have to soak and wash the soil from the coiled fern. Although they are green and crunchy and are perfect sautéed – I like to feature this seasonal woodland delicacy as a main dish served over pasta or as a memorable main course salad.
Fiddlehead Ferns & Trumpet Mushrooms over Baby Spinach
2 Baskets of Fiddle heads
1 lb. Assorted Mushrooms
I used two Japanese varieties of Trumpet mushrooms – a Trumpet & a King Trumpet
2 T Olive Oil – or the oil of your choice
1 T Sesame Oil
Squirt of Yuzu Juice (if you have it)
Fresh Baby Spinach
1 – Clean the fiddlehead ferns by soaking them in water for a few minutes and rinsing the soil from the coils. Dry on paper towels. Cut off the dry stems – they often are tough.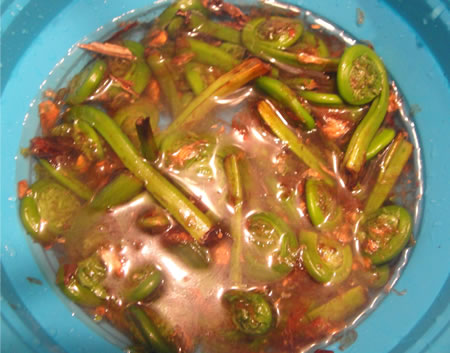 2 – Wipe the Trumpet Mushrooms clean – slice the King Trumpets length wise in insure even cooking.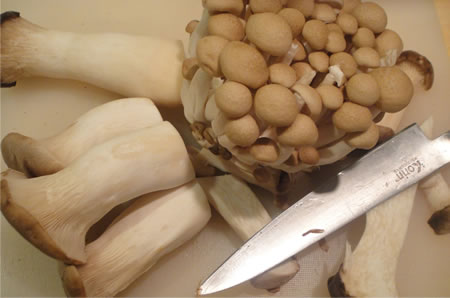 3 – Add 2 T Olive Oil to a heavy sauté pan or wok – I use an antique cast iron pan that was my husband's grandmother.
4 – First sauté the King Trumpet Mushrooms – they need more time to soften.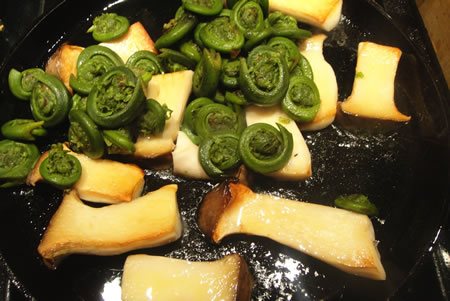 5 – When they begin to soften and turn a bit golden add the Fiddleheads. Give them a minute or two to cook and then add the smaller Trumpet Mushrooms.
6 – Quickly add 2 T of Soy Sauce – I use a low sodium. Cook one minute more.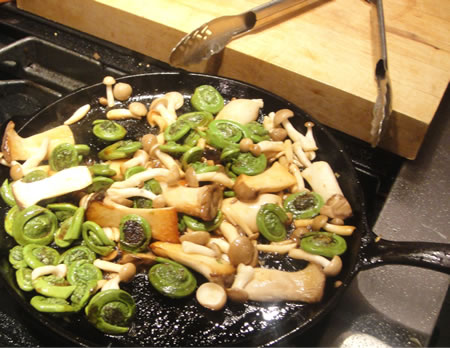 7- Just before service – add 1 T of Sesame Oil. I like the flavor very much Alternatively you can add a squirt of Yuzu Juice or Lemon if you are watching your fat/oil intake.
8 – While hot from the pan, layer over Baby Spinach greens.

9 – Served with garlic bread or Parmesan toast points this salad makes for an exception summer lunch.