The Wonderful Blue Cheese Wedge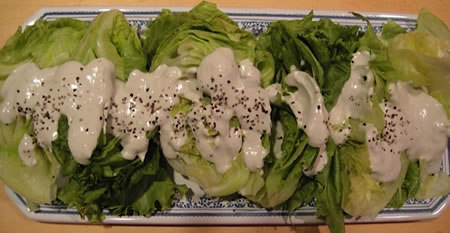 In the market, iceberg lettuce conjures up two insanely different images. The first is the iceberg of my childhood memory.  A bowling ball of watery leafy greens that were just about mummy wrapped in cellophane and saran wrap on the A&P shelf and served on a plate with a dollop of plain sour cream by my Aunt Josie.  She was not a cook but an exceptional God Mother and Aunt.
The second was hand harvesting my first head of heirloom iceberg at Quail Hill Farm.  What a treat – so much so that I'd drive 20 miles to harvest the iceberg when the crop comes in.  I dare not share my secret of the exceptional flavor of the heirloom iceberg while other share holders pick the deer tongue, boston, and other fancy lettuce heads.  I wanted to be able to pick more next week.  And inevitably the iceberg was still there – week after week.
Now the fun begins.  I love an impecable wedge – not the the Baco's covered wedge of restaurant chain fame – but a proper blue chesse wedge salad – with or without bacon.
My second secret is a recipe from Montrachet – where the blue cheese dressing was made with buttermilk and tarragon vinegar.  Exceptional by my standards.
For this recipe – you will need a gadget.  A wand is perfect but a blender or small food processor will do.
Butter Milk Blue Cheese Wedge Salad
3 small heads of heirloom iceberg lettuce – or 1 large head
1 cup of Butter Milk
1 large shallot – I prefer the torpedo shaped shallots, they are easier to peel
8 to 12 oz of Danish Blue cheese
1T tarragon vinegar.  And although any good quality herbal vinegar will do – the taragon vinegar imparts the perfect flavor
Coarse Ground Black Pepper for Finishing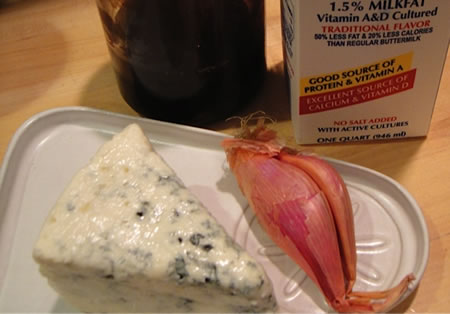 1-Measure the butter milk and set aside.
2-Roughly chop the shallots by hand.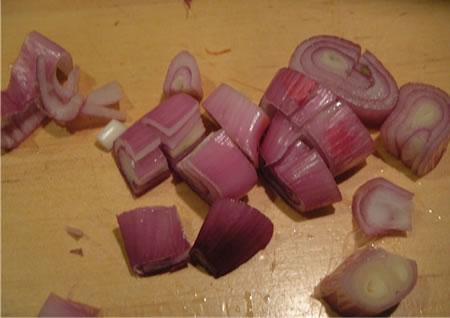 3- Add the shallots and the vinegar to a vessel and process to chop.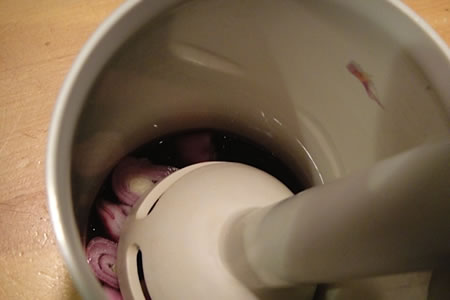 4- add the buttermilk and process adding cheese chunk by chunk continuing to process into a thick dressing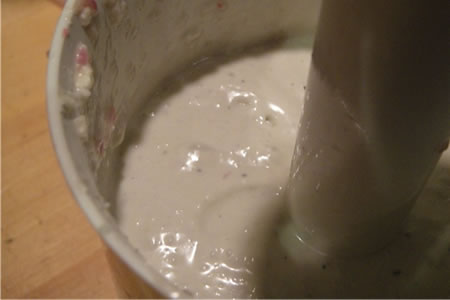 5- Taste.  Drizzle in more vinegar if need be.
6- Refrigerate
7- Just before serving cut the Iceberg lettuce heads into wedges.  I like the smaller heads on a long platter – lined up like soldiers on guard
8- Spoon the Buttermilk Blue Cheese Dressing over the wedges making sure it is distributed evenly. Finish with Coarse Ground Black Pepper to taste.
Buttermilk Blue Cheese Dressing is a teriffic sauce over grilled skirt steak as well.  And makes a lovely main course salad.