My Bliss Point – Upside Down Cake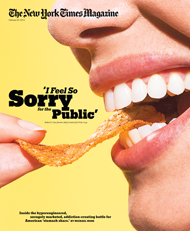 My Sunday was sideswiped by the cover article of last weeks NYT magazine, "The Extraordinary Science of Addictive Junk Food" by Michael Moss . A fascinating expose of how large food brands seduce our senses with fast, easy to prepare (or pack, as in the case of Lunchables ) engineered "food".
Building a product that tests high and bringing consumers to their "Bliss Point"  is the goal. Addicting them to fat, sugar and salt is how you measure success. Consumerism at it's best and maybe most dangerous. But sales soar and brands grow. I don't usually stand on a soap box pontificating about the horrors of engineered food. We all are lucky enough to make choices, and so much of success in life is about good choices. If you have the time I would recommend that you read this article.
But what is a real life "Bliss Point"?
We all have blissful food memories – a Sunday supper or home baked pies, an insane burger or a perfect Maraschino-cherried Manhattan at  a cozy bar.
For me, it was my mother's sunday roast beef dinner. When it was a "special" dinner, it was always followed by a magical pineapple upside down cake that filled the air with the scent of caramelized sugar and tropical fruit.
The cake was a visual delight – plotted rings of pineapples stuffed with bright red maraschino cherries. There was something so exotic and wonderful about the smell of pineapple and caramelized sugar with a suggestion of cinnamon. The drama of turning out the cake was always a theatrical moment with lots of fuss and bravado. The pan was flipped on a dinner plate revealing the glorious design of the pineapple rings. The burnt sugar glaze dripping down the side of the soft white cake. The gesture of the flip was usually reserved for my father – as it took some strength to flip the hot pan and not drop the dinner plate as the cake surrendered. If we were lucky, my mother would serve it al la mode with a scoop of vanilla ice cream. And yes, to my 10 year old experience it was it was perfectly blissful.
My recipe is adopted from my mother's with a bit more bravado than even my father could achieve. I chose to substitute star fruits for the pineapples and I added bananas and blood orange marmalade along with cardamon and nutmeg to the cinnamon and vanilla. I really changed the recipe – to enhance my adult bliss. But you can add and subtract as your own flavor profile suggests. I tried this out at a casual saturday night dinner when Sean & I had invited guests. Lets just say it fast and easy to prepare – the perfume of the citrus and spices filled our home and the theatrical flip of the upside down cake was not wasted on Stephen who adores an operatic gesture at the Met or where ever he can find one.
A Cold Winter's Night Star Fruit & Banana Upside Down Cake with Blood Orange Marmalade
Ingredients: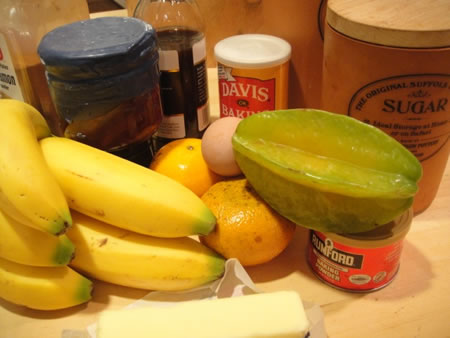 1/2 cup blood orange marmalade – we use Josephine's feast! Fine Cut Blood Orange Marmalade.  But any marmalade will do
1 star fruit – 1/2 slices
2 1/2 cups thinly sliced organic bananas
8 tbsp. butter
1/2 cup sugar – I prefer organic, along with being healthier it has a rich warm color
1 egg
1 T vanilla
3/4 t cinnamon
1/2 t cardamon
1/4 t nutmeg
1-1/3 cups cake flour
2 tsp. baking powder
1/2 tsp. fine grain sea salt
1/2 cup milk
whipped cream or ice cream (optional)
Directions:
Preheat the oven to 350 degrees.
Butter a 10 inch cast iron skillet.
Heat the pan over the stove top and spread the marmalade evenly over the bottom of the pan.
Place the star fruit in simple pattern and add the banana slices covering the marmalade – but allowing the rind to show thru.
Cream the butter and sugar together until light and fluffy. I use a hand mixer for this as my mother always did
Continue to beat while adding the egg, vanilla, and spices.
In a separate bowl, sift together the flour, baking powder and salt.
Alternately add the dry ingredients and milk to the butter mixture, a bit at a time, then stir until just combined.
Pour the batter evenly and completely over the fruit that line the skillet.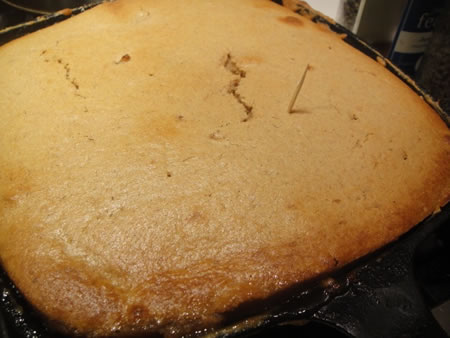 Bake for 40 to 60 minutes or until a wooden toothpick inserted in the center comes out clean.
Remove the cake from the oven and allow to cool for 10 minutes.
Loosen the cake from the skillet by running a knife around the edge of the pan.
Invert a serving platter over the cake and turn over so that the cake rests on the platter. Gently lift the skillet, the fruit and marmalade layer should now be on the top of the cake.
Serve with whipped cream or ice cream if desired. But this is a beautiful cake with a desert wine by a winter fire. Serves 8 to 10.