A Lazy Languid Pumpkin Butter Recipe – Pumpkin Butter Afterglow
On Thanksgiving I find myself focused and fussing over a humble turkey dinner.  It's an all day event with a kitchen full of pots, pans, lots of good food and the promise of leftovers the day after.  Ahh the afterglow of the leftovers – a lazy meal for languid cooks.
Being professionally trained nothing goes to waste in my kitchen. And I start eyeing those gorgeous pumpkins and squash that decorate the table &  the mantel.  Slow cooking or rather roasting  them in a low oven will put them to good use in soups, pies, and even some preserves throughout the winter.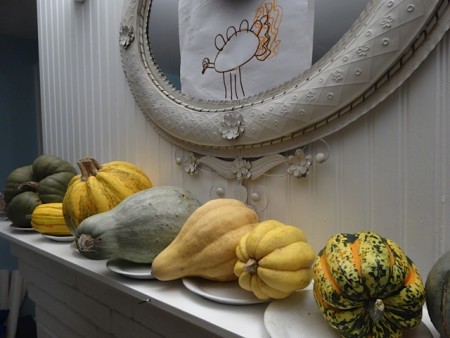 If you have a classic cheese pumpkin or blue hubbard squash – your in for a real treat. In fact, my forager Ron insists that his mother used blue hubbard's exclusively in baking as it gave her "pumpkin" pies a smoother texture.
I slow roast the pumpkins by dividing my work into two parts  – roasting first – and then running the pulp thru a food mill to create a fine puree. This can easily be frozen to use for soups, filling in pasta, pies or pumpkin butter with the recipe that follows.
The Cornell Cooperative Extension does not advise home canning of pumpkin in a water bath preserving process because the puree does not reach the correct internal temperature for sterilization. Freezing in proper containers with square corners is a much better way to extend your season. You can still fill canning jars and refrigerated the Pumpkin Butter to give as gifts during the holiday season. But this must must remain refrigerated and be consumed within 2 weeks.
This is a basic recipe for a delicious Pumpkin Butter sweetened with brown sugar. I have suggested simple pumpkin pie spices – but feel free to experiment. My sister in law uses nutmeg exclusively, I just made a batch with fresh ginger & curry spices that is excellent in chicken or turkey salad. You may want to play with almond or caramel extracts and other warm winter spices or add a dash of New Mexican chili for a spicy pumpkin butter.
Thanksgiving Feast Pumpkin Butter Sweetened with Brown Sugar. 
One Cheese Pumpkin or Hubbard Squash
2 t butter
Brown Sugar
1/2 c Apple Cider Vinegar
1/4 c Lemon Juice
2 t Pumpkin Pie Spices
1 T vanilla
salt & pepper optional
Pectin if needed
1. Turn your oven onto 350 degrees. Depending on the size of your pumpkin – slice it in half or in quarters.
2. Scoop out the seeds – these can be saved, washed, and roasted. We roast ours with Soy Sauce.
3. Place the pumpkins cut side up in a roasting pan. Add a dollop of butter and sprinkle a scant t of brown sugar over the surface. Salt and pepper if you choose.
4. Roast in the 350 oven for approximately 45 minutes. It really depends on the size of the pumpkin. It is done when a fork easily pierces the pumpkin.
5. Let the pumpkin rest and cool to handle.
6. Scoop and weigh out the pumpkin with a kitchen scale.
7. Use a food mill to puree the pumpkin. If you do not have one a food processor may be used.
8. A good size pumpkin will yield about 6 to 8 pounds of pumpkin meat. For each pound of pumpkin meat measure out one cup of brown sugar.
9. In a preserving pan or pot add the pumpkin meat, the brown sugar, 1/2 cup of apple cider vinegar, 1/4 cup of lemon juice, 2t apple pie spices. Other spices can be used see the note below
10. Cook on a low heat until the Pumpkin butter coats the back of a spoon. This can take anywhere from 1 to 3 hours cooking on a low flame to prevent scorching. If you prefer a thicker butter you can add 2 pouches of liquid pectin.