My Mother's Cabbage "Kapusta" Soup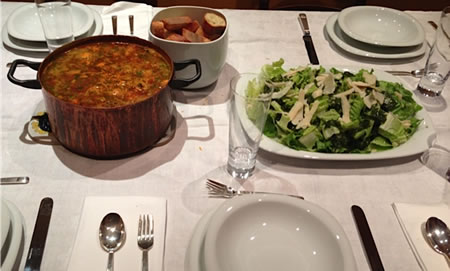 As far back as I can remember, my family has celebrated Christmas Eve with the traditional Polish custom of a fasting meal of 12 fish before the celebration of Christmas Day.
My grandmother would set out a white table cloth and make a simple meal of fish cakes, fried flounder, cod, boiled shrimp, broiled scallops and herring. There was always a bowl of rich and delicious eggnog that we would consume in huge amounts, not being at all concerned with calories or cholesterol. I can still smell the fragrance of the nutmeg that my grandfather grated over the tops of our small hands holding tightly to the dainty punch bowl cups.
As we grew into teenagers, my brother and I brought our friends, boyfriends, girlfriends, spouses and even our in-laws to my mother's Christmas Eve feast.  My mother always made a traditional cabbage soup with Polish dried mushrooms.  They were costly and I remember my Aunt Bertha bringing back a suitcase full of these particular mushrooms from her trips to Poland until the Chernobyl disaster exposed the mushrooms – and all vegetation for that matter- to high levels of radiation.  That was that year my mother switched to Porcini mushrooms and although it wasn't quite the same  – the meal was pronounced "humble " by my father and our humble holiday feasting commenced.
No matter what happens throughout the year, my brothers and I try to honor my families tradition.  My mother still makes her cabbage and mushroom soup and brings it to my home for Christmas Eve dinner.  I have made poach salmon, shell fish lasagna and even bouillabaisse in past years stretching the feast of 12 fish to  16 or 18 fish.  But in the end it is a "humble" meal and a  cod fish dinner with a bitter green salad and a bowl of cabbage and mushroom soup is our family tradition.  As I set the table, my brother would sneak up on me and mimic my father's voice, pronounce our feast a  "Humble Meal", and then dinner can begin.
Here is a Recipe for my mother's  Cabbage and Mushroom soup.  It is a wonderful healthy soup and very easy to make.  No fat, gluten free and positively delicious.
My Mother's Kapusta Soup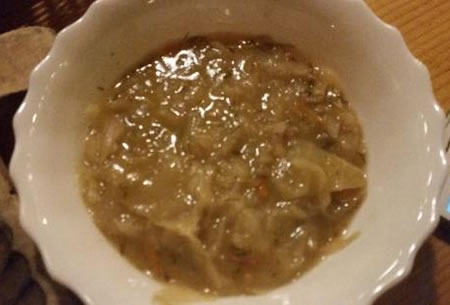 Ingredients:
2 Small head's of green cabbage
12 cups vegetable stock or vegetable bouillon
6 to 8 oz Dried Polish Borowik Mushrooms – Dried Porcini or Shiitake can be substituted
1 16 oz Bag or jar of sauerkraut.
Parsley Optional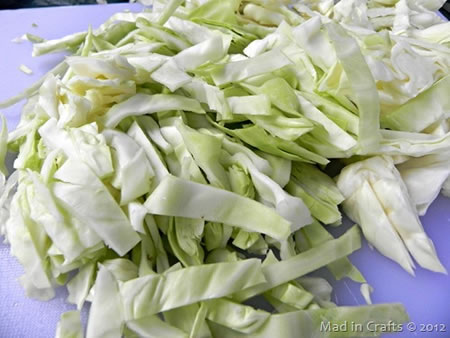 1) Rehydrate the dried mushroom by pouring hot water over them and letting them rest for 20 to 30 minutes
2) Shred the cabbage either by hand or in a food processor.
3) Heat the stock or bullion in a large stock pot – bring to a boil.
4) Add the cabbage and simmer
5) Remove the mushrooms from the rehydration water and put them in the stock pot
6) Pour the rehydration water or mushroom "juice" thru a fine strainer to remove the grit and add this to the stock pot
7) add the package of sauerkraut to the stock pot
8) Let all ingredients simmer for 45 minutes until the cabbage is tender.
9) Season with salt and pepper to taste.
10) And if you would like to add a bit of chopped parsley or thyme that would be fine.  Although My mother would not feel the need to!