Red Hot Pepper Jam Cheese Spread
Holiday afterglow: back to the basics:  good friends and quiet get togethers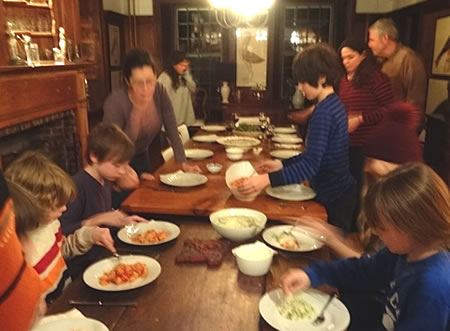 I am glad to have some down time – but I know that that once the tree is dismantled we'll be enjoying the company of friends, working on those New Year resolutions and maybe even planning a Super Bowl something or other.
These quieter times are wonderful to experiment with food and try new dinner recipes.  I have one recipe that I have been holding onto for a while. It was suggested simultaneously by two members of our  extended family – both young woman who have moved from Louisiana to to NYC last year.  You may know both Carra Jane & Eliza as they help out at the Union Square Green Market on Saturdays.  They are both big fans of LSU, Cajun food and JF Red Hot Pepper Jam.  They dually suggested making their mothers Hot Pepper Cheese Spread with our jam.
This recipe was shared by Carra Williams (Carra Jane's mother) who certainly knows a thing or two about good food and entertaining.  The cheese spread is perfect for a casual  gatherings – easy to make and holds for a day or two in the refrigerator.  The pecans I used are are from the Double Farm Pecan farm in Monroe La.  They are a welcome holiday gift from Eliza's mother Forrest and can be ordered by phone at (318) 343-6690. They are just about the most perfect pecans – extra large and fragrant.  I changed the recipe slightly by adding a 1/2 cup of jam to the cream cheese base.  We love it with a Dixie beer – better still if you can get your hands on a Parish Grand Reserve or a Parish Envie
Red Hot Pepper Jam Cheese Spread
Ingredients:
2 – 8oz. packages Cream cheese or Neufchâtel
1 cup Thinly sliced green onions or scallions
1 1/2 cup  Toasted finely chopped pecans
1 cup Grated cheddar cheese
1 – 8 oz. jar Hot pepper jelly – we used JF Red Hot pepper Jam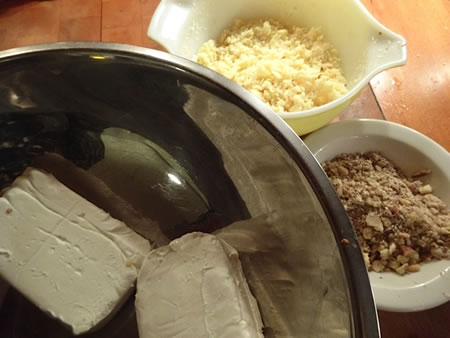 1 -Toast the pecans in a dry skillet until fragrant.  Cool.  Chop by hand or in a food processor
2 – Grate the cheddar cheese by hand or in the food processor
3 – Cream both cream cheese and 1/2 cup of hot pepper jam in a with  a hand mixer.  You can also do this with an egg beater or fork.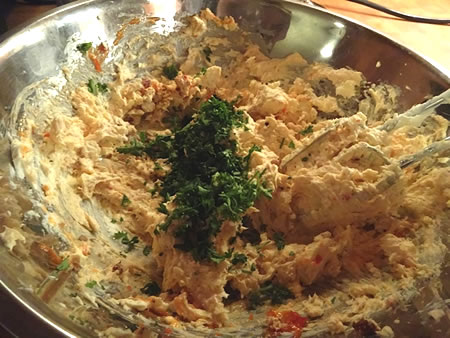 4 – Add 1 cup of the grated cheddar cheese to the cream cheese & blend.  Add 1 cup of the toasted pecans, and finally the green onions,.  Mix to just incorporate the nuts & onion.
5 – Form into a log, a ball or whatever shape you desire.  The spread can also be served in a crock.  For this Super Bowl a football shape is adorable.
6 – Put in the fridge until ready to serve.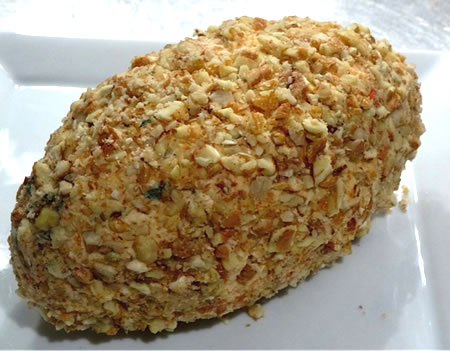 7 –  When ready to serve roll the log on the toasted pecan or sprinkle the additional nuts on top of the crock.
8 –  spoon 1/3 to 1/2 cup of the hot pepper jelly on top.Or add it to the side.
Carra serves the Cheese Spread with Wheat Tins or Vinta Crackers – and honestly it works beautifully spread in celery with a dollop of jam.  It reminds me of an appetizer my grandmother would make for our family holidays.