Super Food for the Super Bowl: Sensational Super Green Caesar Salad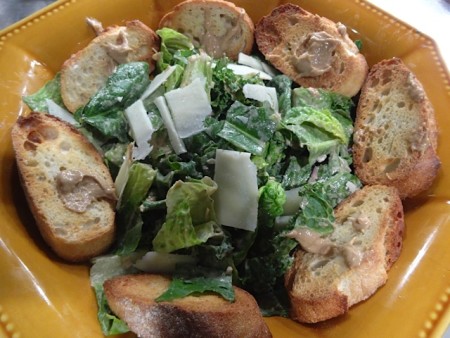 Super Bowl Sunday is a few days away. My memories of the super bowl are tainted by sibling arguments over the control of the TV. Inevitably, my brothers won and I'd be watching the Pittsburg Steelers walk out on a snow filled field, larger than life in oversized shoulder guards, big black helmets and wind blown capes. Perhaps George Lucas saw the same game? A premonition to Darth Vader for sure. An imposing sight even for me who cared little about the sport – the visual made the players look like giants among men. And according to my brother Robert – they were.
So in honor of those supermen, why not serve a Sensational Super Green Caesar Salad. I like the idea of mixed dark leafy green to serve alongside traditional super bowl fare. A mix of spinach, kale, watercress dandelion greens, arugula, romaine,chard & beet greens makes for a nutritionally dense salad that stands up to a Caesar dressing. For additional information read leafy greens .
So don your cape and serve this Super Green Caesar Salad with a deliciously Creamy Tahini Caesar Dressing. It is healthy, satisfying and scrumptious – it also makes a great lunch served with grilled shrimp, canned tuna, or steak.
Sensational Super Green Caesar Salad
Ingredients:
3 or 4 bunches of greens… I used Spinach, Kale, Romaine, Dandelion Greens, & Arugula
1 shallot…finely minced
juice of 1 lemon…reserve the zest
1/2 c tahini
2 T soy sauce…I use low sodium
1 to 2 whole anchovies…I use rinsed salt packed anchovy from Sicily
1 to 2 cloves of garlic Plus and addition clove for the crouton
Milk, rice milk or water
Pinch of cayenne pepper flakes – optional
Sea salt & fresh ground pepper to taste
1/2 baguette sliced on and angle
1/4 c grated or shaved parmesan cheese
1. Wash & dry the greens – I like to chop the leaves into an oversized chiffonade if they are large.
2. Add the shallot to the reserved lemon zest and put to the side.
3. Add the tahini, soy sauce, anchovy, garlic, lemon juice & cayenne pepper if you are adding it to the dressing to a bowl. Using an Immersion Blender (or traditional Blender), Blend until smooth – taste. You may need to add more lemon or a bit of milk, rice milk or water for a creamy consistency. Add 1 T at a time
4. Thinly slice and toast 1/2 of a baguette – depending on it's size you should get 8 to 12 slices.
5. Toast under a broiler until slightly golden – turn and repeat on the other side – if you are feeling particularly decadent you can brush the bread with olive oil.
6. Rub the crouton with a clove of garlic – I find that one side is all you need, but if you love garlic repeat on the second side. Reserve
7. Add the greens to a deep mixing bowl, add the chopped shallot & lemon zest, pour the caesar tahini dressing over the salad.   Mix well – I find that clean hands are your best tool.
8 .Move the salad to a salad bowl, add the grated cheese and croutons.