Tom Brady's Perfect (Meat) Balls: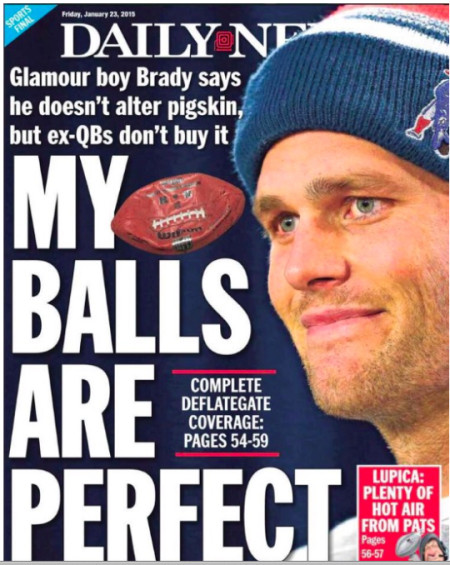 I  just about died when I saw the headline of the NY Daily News last week. Honestly I couldn't stop laughing as the media event grew around deflate-gate. Bill Belichick, Tom Brady and even Bill Nye the Science guy are all weighing in. A fabulous lesson in the physics of footballs if I do say so myself!
Now that the fate of the football is up in the air, what about the quest for the perfect meatball?  I was reminded of a  truly memorable meatball that I had years ago at a small Italian restaurant in Millbrook, NY. It was lighter than air. Pair it with your favorite marinara sauce or try it with my Wild Foraged Concord Grape Sauce – yes made with grape jam- for a sweet and sour hor d'oeuvre for a midnight snack or your own super bowl fete.
Adopted from the original cryptic recipe – instead of using beef and pork – the chef used veal and a bread crumb made from their the restaurant's house made focaccia. I use veal or a 50/50 blend of lamb and veal with left over brioche from the She Wolf Bakery. I worked alongside the bakery in a kitchen incubator until they moved to their own kitchen in Greenpoint. There was always an abundance of delicious bread to dip into hot jam pots.  She Wolf Bread is served at Reynard in the Wythe Hotel and sold in several Green Markets in NYC.
Feel free to double or triple the recipe and freeze half for later use. It not only keeps well but makes a delicious meal on a moments notice.
Perfect Meatballs
Duration: 30 minutes
Yield: 40 cocktail meat balls
Ingredients:
2 lbs ground veal… I use organic veal from Tamarack Hollow Farm (available at the Union Square Green Market on Wednesdays & Saturdays)
1/2 loaf brioche / 2 full cups… I use 2 large brioche hamburger rolls from She Wolf Bakery
1 c milk … I use Ronnybrook Creamline
1/2 c grated cheese…I use Pecorino Romano
1 egg…Break and scramble the yolk
1 t sea salt…Add more to taste
1T spices…I use dried rosemary, thyme, & parsley
1 T garlic…I use dried here – but you can crush a fresh clove in a press
1/2 t fresh ground pepper…Add more to taste
1. Slice and lightly toast the bread – I used a half of loaf of stale brioche or 2 to 3 brioche rolls that were cut then crumbled.
2. Pour a cup of milk over the bread crumbs, let this soak for 15 minutes.
3. Squeeze the milk from the crumbs – best to do this by hand.
4. Break up the ground veal and add the damp bread crumbs, grated cheese, egg, herbs, salt, pepper and garlic.
5. Mix the ingredients well but use a light hand.  Do not work the mix too much.
6. I use a small ice cream scoop to segment the meat ball mix – making perfect meat balls
7. You can place the meat balls on baking trays lined with parchment or wax paper to freeze over night.  When they are solid – place in a doubled zip lock freezer bag – clearly marked with product name and date for later use.
8. Roast the meat balls in the oven at 350 degrees for 20 minutes if they are fresh – 30 minutes if they are frozen.  This will render some fat and make them less greasy.
9. Pat dry on paper towels.
Place the roasted meat balls in a pot of maranara sauce and simmer for an additional 30 minutes.
Or try this sweet and sour sauce. Click Wild Foraged Concord Grape Sauce to go to that Recipe!