Polenta d'Amour – Rack of Lamb
Polenta d'Amour – Baby Rack of Lamb Drizzled with Pomegranate Syrup and Rosemary Polenta for Two
Sean and I would often spend News Years Day in Rome. We always stayed in a small family hotel near the Porto Maggiore. We had the top floor and a view of tiled roof tops, church spires and two ancient roads now smothered with commuters making their way thru the city.
At the end of a long day of walking thru the city we came back to the lobby of of our hotel which was magically transformed into a cocktail lounge with piano music provided by the owner – who loved to play Hall & Oats. He convinced you to have dinner at the hotel by showing you his kitchen – run with an iron fist by his mother and a small team of waist hight woman wearing white caps as they scurried about. How on earth could you say no? His wife chose the wine and kept her husband and son busy serving guests between songs. He highly recommended the Polenta d'Amour with a smile and a wink.
Polenta d'amour, as I knew it was a sweet polenta cake. But this was an extraordinary meal. Our host proudly carried a wooden carving board to our table." This polenta is meant to be shared" another wink. There sat two fire grilled quails perfectly roasted on top of a creamy bed of polenta. The polenta was cooked over the fire and picked up the smoldering scent of the wood. Sensual and perfect with a a bottle of Frascati.
My dish is a adoption of this memory. I replaced the quail with a baby rack of lamb – a perfect dinner for two. Serve it with a creamy dish of rosemary polenta and a touch of pomegranate syrup to add a tart but strong sweet "kiss" of flavor.
Roasted Rack of Lamb for Two
Ingredients:
French Trimmed Rack of Lamb
1 t or more of Sea Salt
1/2 t or more Cracked Black Pepper
1 T Freshly Chopped Rosemary
1 Chopped Clove Garlic
1 T Olive Oil
1/3 cup Pomegranate Syrup (see our post on Pomegranate Syrup)
1. Preheat your oven to 425 degrees.
2. If you haven't ordered a "frenched" rack of lamb – take the time to trim the rack (Video).
3. Rub the lamb with olive oil.
4. Rub a generous amount of sea salt, pepper, rosemary and chopped garlic on to the roast.
5. Wrap the "Frenched" bones in foil – or they will burn in the oven.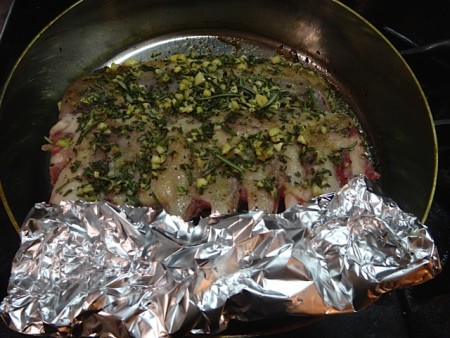 6. Place in the center of a 425 degree oven for 5 minutes then drop the temperature to 375 degrees.
7. After roasting for 10 to 12 minutes remove the lamb from the oven and drizzle 1/3 cup of pomegranate syrup onto the lamb.  Basting to coat evenly. Roast another 3 to 5 minutes and repeat the basting procedure – this time with the pan drippings that contain the pomegranate syrup.
8. Continuing roasting until internal temperature reaches 145 to 150 for medium rare.
9. Tent under foil for 10 minutes and slice ribs between the bones for perfectly cooked baby lamb chops.
While the lamb is roasting make Rosemary Polenta (See our Post on Rosemary Polenta).
To assemble:
1. Spoon the polenta in the center of a large platter – or wooden cutting board.
2. Place 3 ribs on either side of the polenta.
3. Sparing drizzle an additional "kiss" of pomegranate syrup over the lamb chops.
4. Garnish with an addition of a sprig of rosemary