Kabocha Chili
There is still icicles on my window and the March wind is awfully cold but there are the telltale signs that spring will soon be here. I am so looking forward to bitter baby greens, pungent ramps and the crunch of fiddle head ferns – anything fresh and green, it's been an awfully long winter.
I had spent some time last week with my friend Carol Harnett and often our conversation will turn to health (her speciality), good food, training (she is running the Bataan Memorial Death March for Wounded Warriors in White Sands next week) and my lack of it. She mentioned a Pumpkin Chili that she attributed to her friend Terry Waters & her cookbook Clean Food.
So with that inspiration in mind, I walked over to the Union Square market and until the snow clears on the farms, I will need to stick to the market offerings of squash, celeriac, micro greens and some gorgeous blue eggs. I did purchase "the last" of the Kabocha squash and poked around my cabinet to find a bag of Azuki beans. I seriously wanted to pass this chili off to my husband Sean with out telling him it was vegan.
Here is my version of a Chino-Latino/Asian-Fusion meal – combine this with brown rice or a polenta for an excellent vegetarian meal. Or use it as a side this alongside salmon or shrimp.
Kabocha Squash is a Japanese winter squash and has a strong yet sweet flavor and moist, fluffy texture, which is like chestnuts. Azuki beans  date back to 4000 BC and have excellent nutrition value containing a variety of minerals – iron, magnesium, potassium, zinc and folic acid. I choose coconut oil in this meal but you can easily substitute any healthy oil such as olive oil or grape seed oil.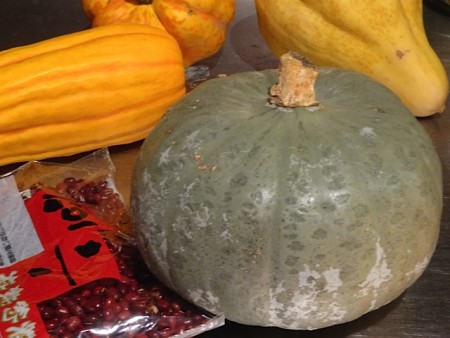 Kabocha Chili
Ingredients
1 cup Azuki Beans (Dry)
1 2" piece of Comb
1 Kabocha Squash
1 cup Azuki Beans (Dry)
1 Onion
1 Shallot
2 Cloves of Garlic Minced
1 Bulb Celeriac
4 T Coconut oil
2 Tbs Chili Powder – I use Josephine's Feast*
1 14.5 oz can of Organic Whole Plum Tomato (Muir Glen )
dash Sea Salt
1t Yuzu or Lemon juice
1 Healthy bunch of Cilantro
1. Soak the Azuki beans in boiling hot water for one hour. Pour off the liquid and cook the beans in a full pot of boiling water for 5 minutes. Pour off the water and repeat – this time bring ing the beans to a slow simmer for about 1 hour until cooked. This two step process takes away impurities in dried beans and it is a technique taught by George Blanc.
2. If you have a small piece of kombu add it to the beans while cooking – not only does it deliver a subtle flavor but it reduces the gas producing properties of the dried beans.
3. While the beans are cooking quarter the Kabocha squash, take out the seeds (you can roast them with Tamari sauce) and peel the skin. Cut the squash into 1/2" cubes – slice, batonette, and cube.
4. Dice the onions, the celeriac, the shallot and the garlic.  The celeriac will stay ivory white with out going brown if you sprinkle it with a bit of Yuzu  or lemon juice.
5. In a deep heavy pot add the 4 T of oil and toast your chili powder. This step adds so much depth and flavor.
6. When the spices are fragrant begin by adding the Kabocha squash, making sure to coat every piece. Use a low flame so as not to burn the vegetables.
7. Add the onions, cleric, shallot and garlic stirring to coat the vegetables.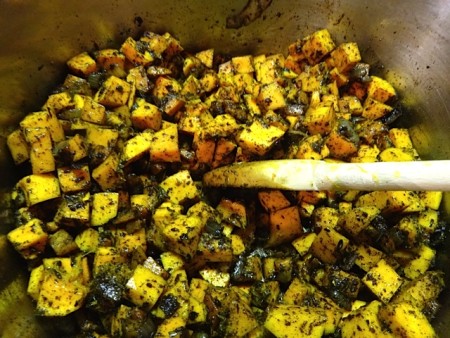 8. When throughly combined add the can of tomatoes. I like to hand chop the tomatoes before I add them to the pot.
9. Add an additional 4 cups of vegetable stock and the pre cooked Azuki beans.  Now is the time to add salt if you desire
10. Simmer until tender.
11. Taste – I like to add 1 to 2 T of Yuzu juice or any citrus for that matter to brighten the flavor.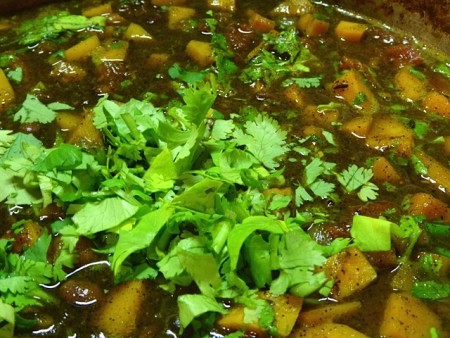 12. Before serving stir in 1/2 the chopped cilantro and reserve 1/2 for a fresh garnish.
* You can substitute 1 T chili powder and 1 T cumin or go to Alton Brown's website and roast your own