Josephine's feast! is an artisanal collection of gourmet gift offerings that turns any meal into a celebration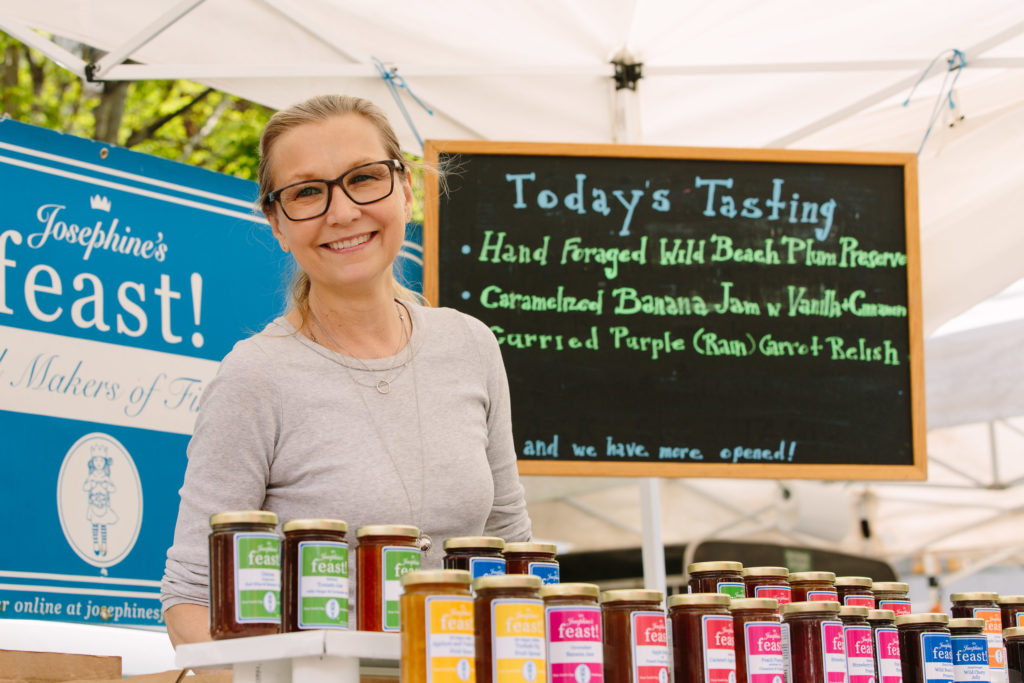 Laura and Josephine at Quail Hill Farm in Amagansett, Long Island
WHO
Laura is an accomplished Chef who has worked with David Bouley in his original and now legendary 4 star restaurant "Bouley" in New York City.
She has also worked for many of the America's top fashion designer's such as Perry Ellis, Betsey Johnson, and Vera Wang as well as Barney's New York, Limited Brands and Victoria's Secret.  An extensive traveler and world class shopper, it is her unique combination of food, and fashion, with a good dose of great taste – that has brought Laura's passions together under the label Josephine's feast!.  The brand is named after her daughter.
View this six minute Documentary by Filmmaker Liza De Guia about Josephine's feast! . Laura and her associate Mimi Hill make  "Four Berry Preserves" in our Commercial kitchen in Astoria.
"My passion is working in the traditional methode confituer handcrafting fruits and creating the most tasteful preserves."
WHAT
Josephine's feast! is a collection of seasonal, sustainable, artisinally made confiture. The collection is made limited quantities from local fruits using traditional slow cooking methods.  The small batch production insures a taste and texture that is unmatched in the market today.  The collection includes preserved fruits & vegetables – marmalades, jams, fruit butters & chutneys, spice rubs & blends, natural sea salts, exceptionally modern heirloom cakes, and gift collections that reflect the bounty of the season and spirit of feasting.
WHEN
Josephine's feast! opened in the summer of 2009. But it was a concept that started long before the first jar of jam was sealed.  Over the years, family receipes were tweaked and holidays often included gifts from Laura's kitchen.  Preserving was more than a hobby for her, is was a passionate pursuit, an extension of her creativity.  Seeking out wild blueberies or rosehips on family vacations, or collecting jars of preserves from her travels around the world, confituer was a fascination to her.  And she became really very good at it.
HOW
At josephine's feast!  We pride ourselves in the bounty of the season and the skill of the confituer.
We work directly with family owned farms on the north and south forks of long island seeking out seasonal, local, sustainable and responsible farmers that allow their fruit to ripen naturally in the sun. They are always sustainable, sometimes certified organic and sometimes they have signed the "farmer's pledge" and practice responsible farming.  Our forager and his family have been farming land on the east end of Long Island for 4 generations.  Ron is a carpenter now, but has an ancestral history of the land.  He brings us wild concord grapes & cherries, wineberries, and beach plums.
We carefully prepare the fruit by hand, cooking slowly and carefully often over several days to reach peak flavor. We use traditional F French copper preserving pans and limit the quantity of our preserves to 12 to 16 jars per batch. This produces exceptional taste and perfect texture.  That's our secret – allowing the fullest flavors in the fruit to develop and capturing all of the impeccable flavor with the traditional method of confiture.
There is an average of 2 pounds of delectable fruit in every jar.  Our  careful production practices insures a quality preserve made without commercial pectin, stabilizers, or other items that may be natural but not necessary good for you.  Fresh fruit, pure sugar, a bit of lemon and that's all.  We make our own apple pectin stock from a 100 year old heirloom apple tree. There is an alchemy in what we do – like fine wines – each preserve in individually cooked according to the confituers art. You can taste the difference.
WHERE
Josephine's feast!  is manufactured in our Commercial Kitchen in New York City and is licensed by the New York  State Department of Agriculture and Markets. We are recognized as a New York State Small-Batch Producer and are a member of the New York State Small Batch Producer Organization (NYSSBP).
WHY
We wanted to make something that we could be proud of.  We wanted to make something that was better than anything else in the market. At Josephine's Feast we hope you agree with us that quite simply these are the most delicious preserves in the world.  We hope that you have the opportunity to taste the difference.   What we enjoy most is sharing the gift of good taste and delicious food with our friends and family.  And we hope you will too.
Time to Go Home