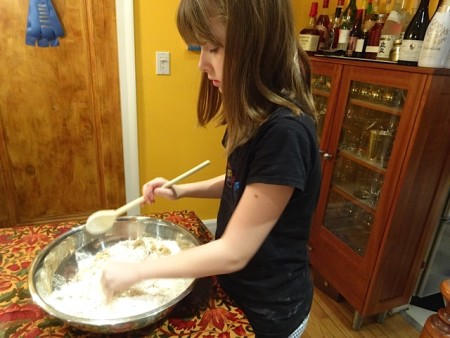 Jo wanted to make a gift for her friend's birthday – a store bought present won't do. Because she is our in-house Foodie, Jo searched her Pinterest pages and came up with a long list of recipes to cook the morning of the party. A terrific idea except there simply wasn't enough time. We chose what we could make with the food in our kitchen pantry and with a time limit of one hour. We cobbled together several recipes to make the perfect Sunday Morning Breakfast Bars. We were lucky enough to have organic blueberries in our freezer, but any of our jams could be substituted for a delicious "fruit" filled layer.
I have to admit – this is a great recipe and I later made a batch using JF 24 Karat Granola and substituting the blue berries with JF Four Berry Preserves. The baked the bars were sensational with a sophisticated flavors of the 24 Karat Granola dancing around the luscious berry flavors captured in the preserves.
After the bars are cooked, they can be cut, wrapped in wax paper or parchment and placed in ziplock bags in the freezer. Reheat in a 325 degree oven or toaster oven for 10 to 15 minutes for a crunchy, warm sensational breakfast on any cold snowy day – not just Sundays. I also love to cut this bar in half and serve it with a scoop of Vanilla Ice Cream as a perfect quick little desert.
Sunday Morning Granola Bars
Time: about an hour
Yield: 12 to 16 breakfast bars
Ingredients
1 cup Butter
2 1/2 cups Rolled oats or JF 24 Karat Granola
2 1/2 cups Flour
3/4 cup Light Brown Sugar
1/2 t Cinnamon (optional)
1/2 t salt
If you are using fresh berries
3 cups Fresh or frozen blue berries
1/4 c sugar
1 T corn starch
If you are using preserves
1 c JF Four Berry Preserves
1. Preheat oven to 350 degrees
2. Melt the butter and reserve
3. Combine oatmeal or granola with the flour, light brown sugar, baking soda, cinnamon (optional) and salt in a bowl. Pour in the butter and mix well. Use a wooden spoon or clean hands
4. Press 1/2 the mixture in the bottom of a 10″x10″ baking pan.
5a. If you are using fresh or frozen blue berries:
Mix the berries with the sugar and the corn starch. Pour over the crust.
5b. If you are using preserves – spoon the preserves evenly over the crust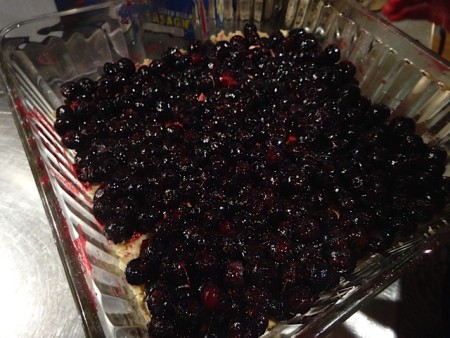 6. Place the remaining mixture over the fruit/preserve layer. Press
7. Bake in the center of the oven for 35 minutes or until lightly golden in color.
8. Let cool for 10 minutes and cut into evenly spaced bars.