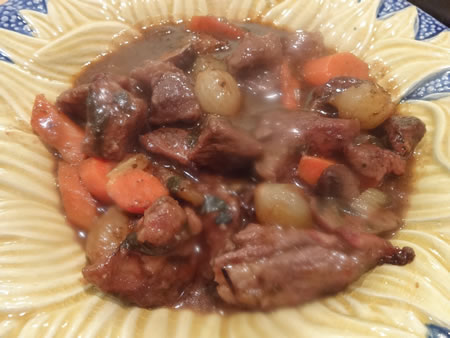 March is here and Spring is in the air – or is it?  Having another long cold saturday in front of me, I decided to turn on the oven and celebrate the glimmering hints of Spring  by raising a strong cup of tea to St Patrick and the Irish – Peter O'Toole, Gabriel Byrne, Liam Neeson, Jonathan Rhys Meyers  and even Colin Farrell. With a Dexy's Midnight Runner's song playing in my head, and the sound track of Barry Lyndon playing in my heart – I began to make my "almost" famous Guinness Stew.  I found this recipe in a 1980's edition of Food & Wine and over the years I have tweaked and redefined the flavors to made this stew my own.  My friend Anita – who shared the same love of the Irish with me, would poetically describe the flavor of the mushrooms to our foodie friends – Joyce couldn't have done any better.  She was always invited to our St. Patricks Day dinner as she was a dear, dear friend who loved Irish music, Irish men and "real" Irish stew just as much as I do.
This recipe makes enough for 8.  I make this quantity so that you will have leftovers  to freeze for an impromptu Sunday night supper.  It is a simple stew that benefits by slow and thoughtful cooking as well as a "rest" in the fridge for a day or two.  It gives a chance for the flavors of the spices to blend.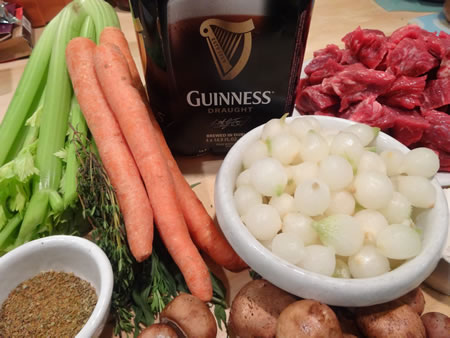 Ingredients:
4 lbs. beef stew
6 T or more olive oil
2 lbs. white button mushrooms
1 lb. frozen pearl onions onions (as much as I love the baskets of fresh pearl onions – the frozen will save you time and is equally as good in the stew.)
4 carrots – give or take
4 ribs of celery
1 cup or more of flour
Sea Salt
2 t  Quatre Epice (mix equal parts of cloves, ginger, nutmeg & black pepper)
2 12 oz cans of Guinness Stout  (buy the 4 pack and enjoy the pour.)
1/3 cup ketchup – or if you prefer tomato paste which was what the original recipe called for.  ( I have no problem with ketchup after using it as an integral ingredient in David Bouley's crab salad while working as Garde Manger at the 4 star restaurant.)
1 T Herbes de Provence – (an mix of savory, marjoram, rosemary, thyme, oregano & sometimes lavender)
A spice bag consisting of:
2 bay leaves, 1 t celery seed, 1/2 t mustard seed, 2 cardamon pods,6 all spice seeds, 6 white & 6 black peppercorns, 4 cloves, small piece of nutmeg, slice of ginger, pinch of red pepper flakes
OR
2 T Josephine's Fest Shinnecock Bay Spice Rub
pre-heat oven to 350 degrees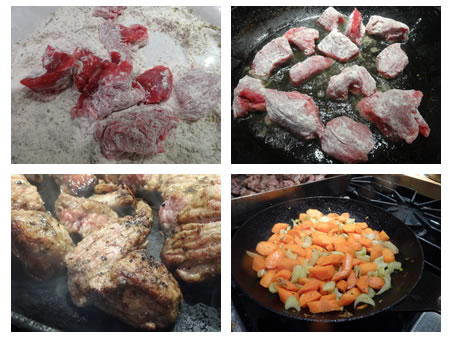 First trim the stew meat.  I like to cut my pieces into something that sits on a spoon – usually 1/3 the size of what my butcher provides.
Stem the button mushrooms and cut the caps into slices – I only use the caps saving the stems for a mushroom stock.
Peel the carrots and cut in half lengthwise and slice into 1/2'' slices.  Do the same with the celrey.  Reserve the pearl onions.
Make a dredge using a bit more than a cup of flour, a good pinch of sea salt and 1 t Quatre Epice
Heat 2 T of the olive oil in a heavy cast iron pan.  When very hot and smoking, quickly dredge a hand full or two of the stew meat in the flour and sear on all sides.  Work quickly and in small batches using a bit more oil if needed.  The end result should be a juicy stew without steaming the meat in it's own juice.  The object is to caramelize a  "crust".  Work your way through all the beef in small batches.  Reserve.
While the meat is resting – add 2 T of olive oil to your roasting pan and place it on the stove.  Sauté the carrots & celery with a pinch of salt for 3 to 5 minutes.  Then add the mushrooms.  Once again – allow the carrots & mushrooms to cook and caramelize without steaming.  About 6 to 8 minutes.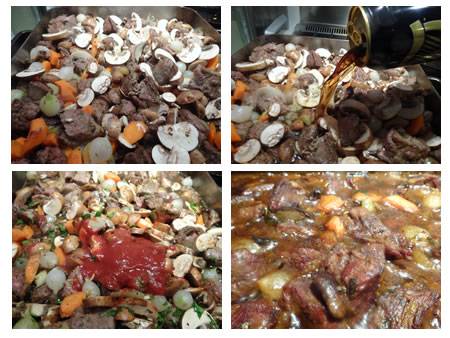 Add the stew meat and the onions.  And two cans of Guinness Stout and 1/3 cup of ketchup.  Scrape any bits that may be on the bottom of the pan.
Add a  Bouquet Garni – a cheese cloth tie made of 2 bay leaves, 1 t celery seed,1/2 t mustard seed, 2 cardamon pods,  4 all spice seeds,   6 white,  6 black peppercorns, 2 cloves, small piece of nutmeg, slice of ginger, pinch of red pepper flakes.
Cover and roast in the oven at 350 degrees for 2 to 3 hours.
When finished test for seasoning.  A bit of salt can be added to taste.
This stew benefits by a long slow roast and is particularly good the second day so it is a terrific make ahead meal.
This stew is great with egg noodles or mashed potatoes.  But for a truly remarkable meal why cook up a pot of polenta while the stew is finishing?  Although this a a non-traditional accompaniment – it is immensely delicious and satisfying.  The leftovers can be rolled into a log – wrapped and refrigerated over night.  It is a perfect sliced and grilled to serve alongside the leftover stew.