On Booze – Sean's Notes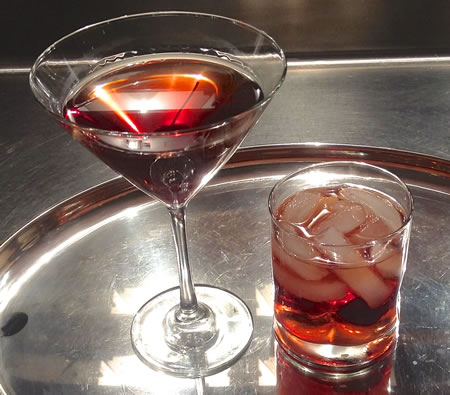 Whiskey for me is more of a Winter Drink. My personal preference is for American Whiskeys, and in particular, Bourbon.  There are many to choose from, but Maker's Mark or Jack Daniels is what I usually have. If I drink it neat or on the rocks, I don't mind following each sip with a Beer Shot (don't judge me).
For a Whiskey Cocktail, try a Perfect Manhattan. I  don't mean "Perfect" as in "it's so fabulous, Darling". It's called that because it is made with equal parts Sweet Vermouth and Dry Vermouth. If you ask a Bartender for just a regular Manhattan, it will be made with Sweet Vermouth only. So Perfect or not, your choice is really just a matter of personal preference of how you like your Manhattan. So try it both ways, its not hard work.
Three things to Remember when making a Manhattan:
1) Use American Rye or Bourbon (otherwise it's called something else)
2) All Manhattans take Bitters
3) Whiskey Cocktails are stirred and not shaken ( shaking "bruises" the whiskey, meaning too much water is added to the drink)
Here is how I make a Perfect Manhattan.
Perfect Manhattan
3 oz Maker's Mark Bourbon
1/2 oz Martini & Rossi Sweet Vermouth (Italian)
1/2 oz Noilly Pratt Dry Vermouth (French)
1/4-1/2 oz Cherry Syrup from Garnish Jar (try Bada Bing Cherries from Tillen Farms)
A couple of Dashes of Angostura Bitters
Add ice to a Cocktail Shaker and add the ingredients. Stir. Strain and serve in a Cocktail Glass or you can pour entire contents of the Shaker into a Highball Glass if you prefer it on the rocks.
Garnish with a Cherry