Apple Butter
Josephine's Feast Apple Butter
Josephine's Feast Fruit butters are delicate in texture. They are a highly concentrated form of applesauce produced by slow and patient cooking.  It was a popular way of preserving apples in Colonial America and well into the 19th century.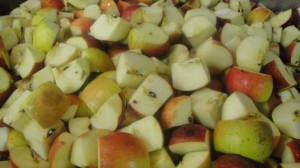 The fruit is cooked first – but not too much – so as not to loose the sweet fruit taste.
Our fruit is hand passed through a tami sieve and returned to the stove.  The fruit sauce is combined with cane or brown sugar, handmade apple cider vinegar and spices. Slowly and patiently the sauce is cooked to the point where the sugars caramelize turning the apple butter a deep brown color bursting with fresh fruit flavor. When cooked correctly the texture of newly made fruit butter is true to its name and has the same texture as creamy butter.  There is not and traditionally never has been dairy butter involved in making fruit butters.
Apple butters are at core of the Josephine Feast! Kitchen.  It can turn a piece of butter toast into a delicious breakfast or afternoon snack.  The concentrated flavor is a nice addition to oatmeal or with buttermilk pancakes.  Mix a few spoonfuls with cream cheese for an outstanding sandwich spread.  Apple Butter can also be used as a condiment with roasted meats or as a side dish with Sunday dinner.  Our Apple Butter Scented with Cardamon can be used on a sandwich for an interesting flavor.  One of our Southampton Farmer's Market customers insists it is best by itself on a sandwich – much the same way she remembers the flavor from her high school days.  Children love the sweet spicy flavor on crackers.