Shop Online
6 Piece NO SALT Spice Rub Collection - An Oprah's Favorite
0075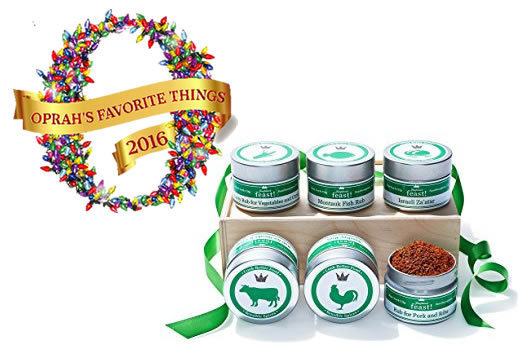 Spice
About the Product
An Oprah's Favorite Things Pick for Holiday 2016 - 100% Pure Spice Rubs - NO SALT ADDED

6 Flavor Gift Collection with Spice Rubs for Poultry, Beef, Fish, Pork, Vegetables & Bread Dips.

Ready for Gift Giving - Packaged in a handmade Birchwood Box & tied with a Green & Red Double faced Satin Bow

The Perfect Gift for the Seasoned Cook or the Novice.

Easy to use - simply rub into steak, chicken, fish, chops, ribs or sprinkle on bread, salad, vegetables and in less than a minute your meal becomes a Feast!
Josephine's Feast! has specially curated for our friends at Oprah, a collection of rubs using our favorite NO SALT Spice Rubs. Positively addicting when used in the kitchen or when grilling. Ready for gift giving in a beautiful handmade birchwood box and tied with a green & red double face satin bow.

The 6 piece flavor collection contains a Rub for Steak made with porcini mushroom powder, a Rub for Pork & Ribs with a smoky Spanish paprika base, a Montauk Fish Rub with herbs, spices & white pepper, a Curry Rub for Vegetables & Grilled Corn, a Rub for Poultry with a distinct herbal blend and turmeric for both flavor and color and a Rub for Bread & Salad is our traditional Zat'tar blend.
The rubs can be used as suggested or combined for layers of flavor all your own. We often mix and match - try the Rub for Pork Rub on a roasted chicken for smokey flavor or the Rub for Bread & Salad on eggs & omelets.
If you wish - dry rub over night for intense flavor. The No Salt blend allows for a "dry marinade". If you choose you can also salt just before cooking as professional do. Add Josephine's Feast French Grey Sea Salt or your favorite salt for a delicious meal bursting with flavor.
Handmade by American Artisans in NYC