So Cupid walks into a bar – assuming a guy with wings could get a drink at a bar – what would he order? I believe he would have to be in Venice. The Venetians are tolerant of so many legendary characters that I am quite sure Cupid would have no problem being served. After all, didn't Casanova escape from Piombi Prison in Venice with the aid of his paramours – the only prisoner to escape the Doge's prison…ahh love and Venice!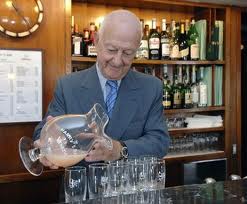 Harry's Bar, where the classic Belini was created, is the best in Venice. The world for that matter. Here's a take on this favored cocktail inspired by the thought of Cupid strolling into Harry's Bar in February when Blood oranges are in season:
Cupid's Choice
12 oz Prosecco
3T Blood Orange Marmalade
1/4t Grenadine –even the traditional Bellini had a hit of raspberry or cherry juice to give the cocktail a pink glow.
Simply pour 12 oz of Prosecco into a cocktail mixer and stir in the Blood Orange Marmalade and grenadine. Strain and serve straight up in a champagne flute or over ice in a highball glass.
A non- alcoholic version can be made with club soda adding a touch more marmalade for a light refreshing beverage.