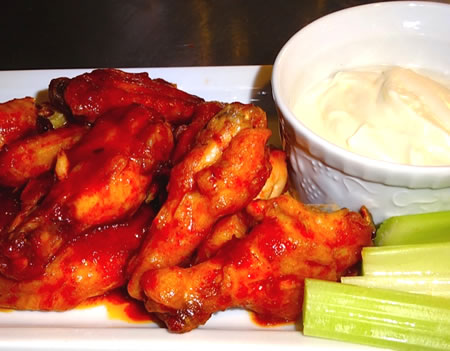 I was in the kitchen last week with my assistant Sara who is ga-ga over Football and hosts an annual Super Bowl Party every season.  Our conversation quickly turned to what she would be serving for her event.  And once the conversation turned to Chicken Wings – everyone in the kitchen had an opinion.  We all have our favorite bar, restaurant or recipe for chicken wings – but I prefer to stay close to the source and have updated traditional Buffalo Chicken Wings.
Generally speaking, Buffalo Wings are deep-fried, unbreaded, and coated in vinegar-based cayenne pepper hot sauce and butter. They are served hot, along with celery sticks and/or carrot sticks and blue cheese dressing for dipping. So I think they hit 4 food groups – and yes I am pulling your leg.
There are a number of claims as to the origins of Buffalo Wings. One of the more prevalent is that Buffalo Wings were first prepared at the Anchor Bar in Buffalo, New York, by Teressa & Frank Bellissimo. Several versions of the story have been circulated by the family. the one I like best was told by their son Dominic to Calvin Trillin for an article in The New Yorker.  "It was Friday night in the bar and since people were buying a lot of drinks he (Frank) wanted to do something nice for them at midnight when the mostly Catholic patrons would be able to eat meat again." He stated that it was his mother, Teressa, who came up with the idea of chicken wings. Maybe so.
My go to recipe is adopted from my food hero Alton Brown, who just seems to do everything right.  His method of steaming and roasting the wings adds much to the texture of the meat and dare I say cuts a bit of the fat.  I use Josephine's Feast Red Hot Pepper Jam  in place of hot sauce and have tweaked the spices to add more depth of flavor.
His original recipe is at FoodNetwork.com.
The Ultimate Buffalo Chicken Wing for the Super Bowl
Ingredients:
2 dozen Whole chicken wings
4 ounces Unsalted butter – clarified
1 small Clove garlic, minced
1/2 cup Josephines Feast Red Hot Pepper Jam
2 T  Sweet Paprika or Josephine's Feast South Fork BBQ Rub
1/2 t Sea salt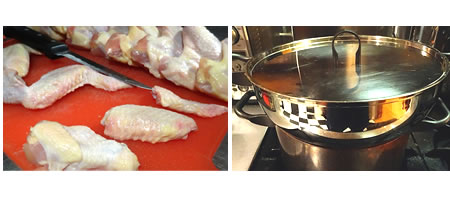 1 – Place a large saucepan with a steamer basket an inch or 2 of water of water.  Over high heat, cover and bring to a boil.
2 – Using kitchen shears, or a knife, separate the wings at the joint. Remove the tips of the wings and save for making stock. Place the wings into the steamer basket, cover, reduce the heat to medium and steam for 10 minutes.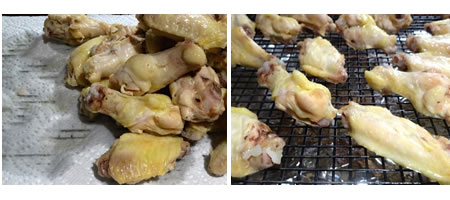 3 – Remove the wings from the basket and pat dry with a paper towel. Lay the wings out on a cooling rack set in a half sheet pan lined with paper towels and place in the refrigerator for 1 hour or over night.
4 – Preheat the oven to 425 degrees.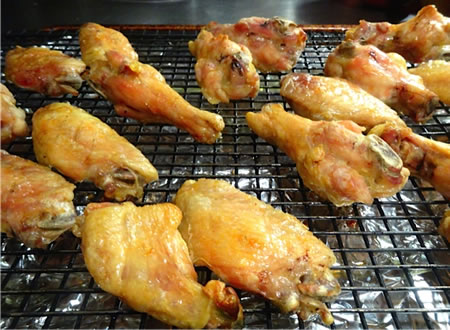 5 – Remove the paper towels and replace with parchment paper or foil. Roast on the middle rack of the oven for 20 minutes. Turn the wings over and cook another 20 minutes or until meat is cooked through and the skin is golden brown.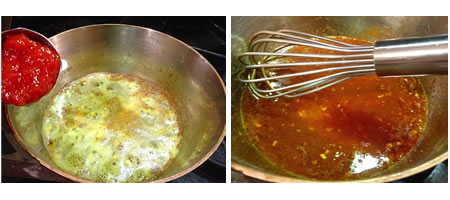 6 – While the wings are roasting, clarify the butter in a small pot. Add the garlic, jam, salt and spice mix.  Cook for 2 minutes.
7 – It is easiest to pull the wings from the oven & combine them in sauce pot – toss to coat.  Serve warm.
Alternatively the wings can be refrigerated for two days and retuned to a 400 degree oven to reheat.
Traditionally served with celery and carrot sticks along with this delicious blue cheese dipping sauce.
Ingredients for  the Blue Cheese Dip:
1/2 cup Sour cream – regular or low fat
1/2 cup Crumbled blue cheese
1/4 cup Mayonnaise
1 Small clove garlic – minced
1 T Buttermilk or milk or cream
1/2 lemon juiced – the zest can be added for extra flavor
to taste Sea salt and freshly ground pepper
1 – Combine the first 6 ingredients in a small bowl and blend with a wand mixer or fork.
2 – Taste and add salt and pepper.
If you are looking for an equal delicious but lower fat version of a Blue Cheese Dressing.  Please view my earlier post.  This recipe would have to be reduced by half or even by three quarters depending on how many wings you are making.